About Us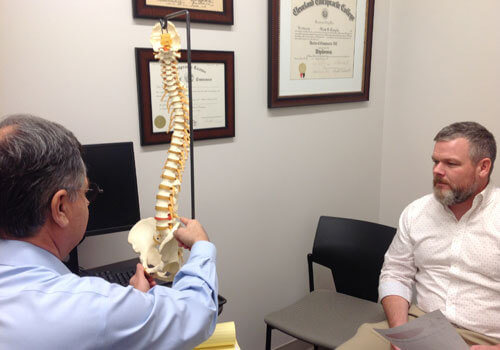 At Longie Chiropractic, we treat patients like family. And we often see many members of a family—parents, kids, cousins, aunts, uncles and grandparents come in for care. Here, regardless of your age or condition, you will be warmly welcomed.
Our Practice Philosophy
To deliver the best, specific, scientific chiropractic care. We emphasize scientifically validated care, with a focus on those suffering from debilitating headaches and migraines.
The first step is evaluating a patient through a consultation and exam specifically of their spine and nerve system. Chiropractor Dr. Rick Longie is a full spine specialist. That's why we take full spine X-rays so we can see top to bottom what's going on with the patient.
Providing Patients With Options
We will sit down on a subsequent visit with the patient and outline exactly what needs to be done, what their problem is and the best approach to address their condition. And then we give them options. "We only accept patients who we know we can help," says Dr. Rick.
Turning on the Body's Power
We believe that the power that made the body heals the body. "Our job as chiropractors is to turn on the power," adds Dr. Rick. While prescription drugs just mask symptoms, working from the outside-in, chiropractic gets to the root of the problem, helping your body heal from the inside-out.
Dr. Rick has three primary chiropractic techniques that he uses: Gonstead, Thompson Drop and Activator Methods®.
MEET DR. LONGIE »
Some Patient Success Stories
Here are just some of the many accounts of patients' positive experiences at our practice.
One of our patients had daily headaches for 17 straight years. She also would have a migraine attack once a week that would put her to bed in a dark room for many hours. This patient felt frustrated at not being able to find any real solutions.
After examining her and taking X-rays, Dr. Rick found the problem. Four chiropractic treatments later, the patient was free of headaches.
Dr. Rick's mother also suffered from migraines and remained headache-free as a result of chiropractic care.
A little girl with Down syndrome was brought into the practice as she wasn't able to walk. After eight weeks of chiropractic care, she walked into Longie Chiropractic.
Book an Appointment
Take that first step toward better health. Contact our Sedalia chiropractic office today to schedule an appointment!
---
About Longie Chiropractic | (660) 829-2600